Project Description
RSVP is a unique charity based in Birmingham. The name stands for "Rape & Sexual Violence Project" and it is an amazing charity that does priceless work.
As a Counsellor I have worked with a fair number of clients who have experienced rape and/ or sexual violence in the past and the effects and impact can be and are often traumatic and long-lasting. Those who have been through such experiences often go through a whole host of emotions ranging from guilt, fear, shame and depression to anxiety and suicidal thoughts. That isn't to say that everyone who has experienced rape or sexual violence should or will experience those emotions but the spectrum is broad and everybody experiences things differently.
R
SVP are there to help those who have been affected by such traumas and offer a range of services and support specifically for this client group. I have worked with RSVP in the passed and referred clients to them as they're very experienced and specialised in the needs of those who have been through such terrible experiences.
One of the services they offer is "Coffee Mornings" for those who have accessed or want to access the service to meet informally, have a chat, a cup of tea or coffee and socialise, learn something new or simply just "be". I was invited to one of those coffee mornings with Flossie to share the joy our little madam brings!
You see, Flossie has a remarkable knack for bringing people around, making them smile, lifting their mood, helping people talk about difficult things or even distract them from haunting issues or difficulties. We wanted to share that joy with the service users attending the coffee morning at RSVP and to give them a taste of the power of the human-animal bond.
At the time we hadn't presented to this specific client group before so it was important that the way we were, what we said and how we interacted was relevant to the client group.
One of the many effects of rape and sexual violence  is how people experience touch later. Some shy away, some are fearful and all the while it is a need that they have or want that may feel inappropriate or wrong. This can lead to what is known as "touch hunger".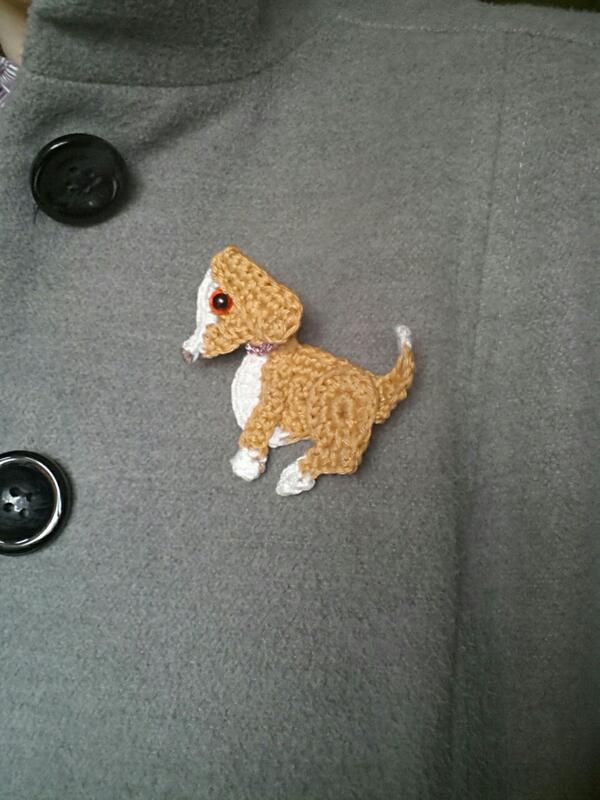 We were and are considering the possible roll that Animal Assisted Therapy and therapeutic interaction with animals might play for those who have experienced rape and/ or sexual violence and how learning such approaches as TTouch might be empowering or therapeutic for such clients. This is a concept that certainly merits further exploration.
So I took Flossie along and spoke with a lovely group of service users who were very interested to hear about the power of the human-animal bond. A number of them shared touching stories and experiences they themselves had had with animals that had made a difference or moved them. I always feel very privileged when hearing other's stories of human-animal interaction – whether it be about dogs, cats, dolphins, horses or even blackbirds.
I was also very touched to receive a gift from them at the end – RSVP sell the loveliest little crocheted gifts and badges and this is what we received. Recognise anyone?